PROMOTION AWARDS 2021 ON TEVECO cloud
On March 5, 2021, the 2020 Promotion Awards were held live streaming on TEVECO Cloud with the winners connected from their offices and the guests in the studio. To achieve these results, you need a digital platform with superior functionality and absolute ease of use. TEVECO Cloud is the entirely Italian digital ecosystem to get much more out of your event.
VIRTUAL AND HYBRID EVENTS
Online and hybrid events and fairs (online + physical) – MICE. Increase the number of participants and reduce costs. Broadcast the event, visit stands, collect information, communication material. and talk to the sponsors live. Network with others visitors, play and interact with products and services on display. Collect data and reports of visits to your stand, contact visitors, create interactive "fair promotions".
Contact us: info@tecnichedivendita.com, tel. (+39) 02 9370 907.
An all-Italian digital ecosystem to work, train, collaborate, share and communicate.
THE UNIQUE PLATFORM TO ORGANIZE A VIRTUAL EVENT LIKE THE REAL ONE
Buy tickets by credit card and get automatic registration.

Direct registration form for free events (without using other services like Evenbrite, etc.).

Send communications and messages to participants in a simple and immediate way.

Event streaming in HD with TEVECO Virtual Room or

ZOOM.



2020: LIVE "TOUCH" AND VIRTUAL STANDS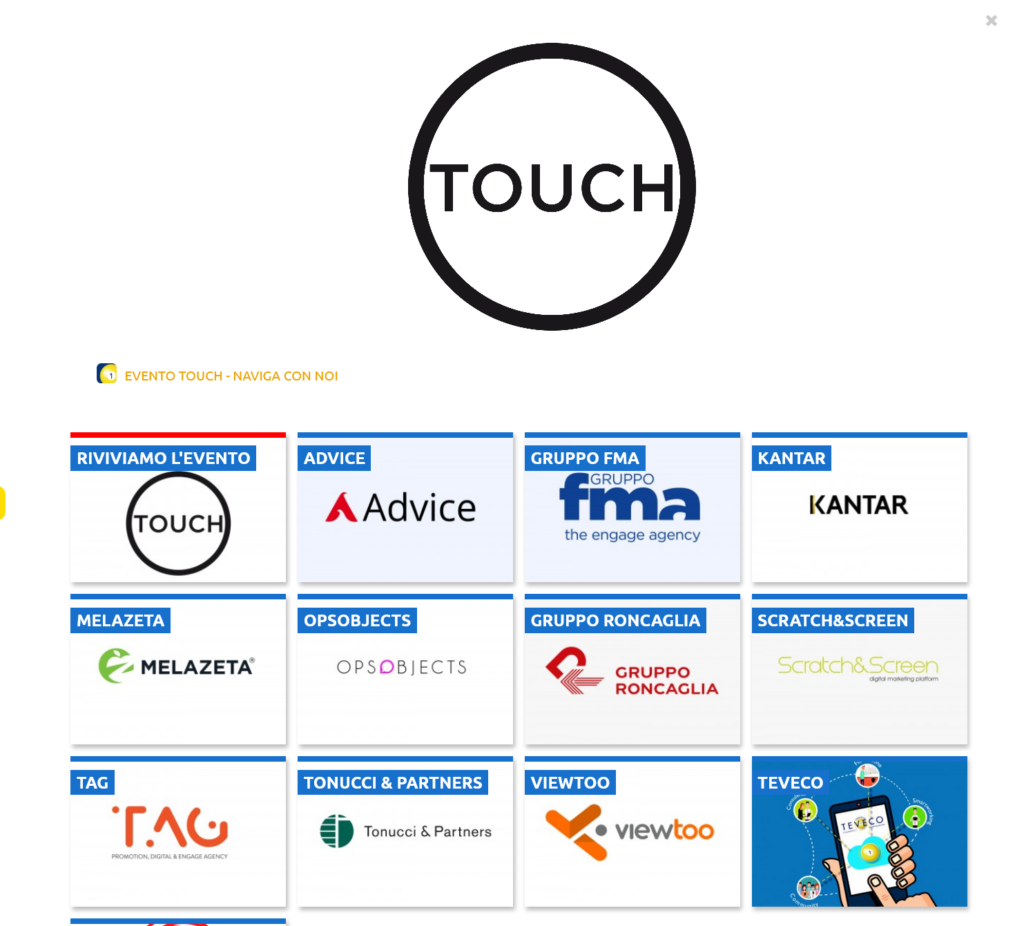 N
VIRTUAL STANDS: host visitors in chat rooms and book meetings via videoconference, share communication material, show and promote new products and services with images, interactive digital storytelling videos, collect feedback, initiate discussions with your community, obtain detailed reports and schedule events with automatic reminders.

All services on one page for fast and intuitive navigation that can be customized with your content.

Matching rooms to meet potential customers.

Shared event agenda always updated with automatic reminders.

Presentations and workshops in reserved rooms.

Schedule your meetings with online booking.

Working and discussion groups.

Direct networking via chat and instant messaging also from the App.

Complete and detailed activities report: visits to the stand, reading documentation, viewing promo videos, etc. Waiting and / or reception rooms in videoconference to accommodate more visitors at the same time and give everyone the utmost attention

Thematic forums where participants can disuss event themes, share experiences, create new professional relationships.

Business communities. Don't miss them after the event! Create your corporate business community to communicate news, promote products and services in a new and engaging way, train with targeted courses, establish lasting and productive relationships over time.

The event is social! Personal profiles can be completed with photos and personal and professional data.

Meet the speakers after the speech in streaming video.

Ask the speakers questions during the event streamed with chat. Send personal messages.

Get attendees to vote with instant polls during the streaming event and post the results right away.

Gamification to involve with interactive and playful questionnaires and games.

Create surveys and surveys in real time.

Keep promoting your products even after the event: keep your stand active.

Event recordings always available.
FULL ASSISTANCE AND DESIGN
Design your event and promotions with our experts team.

Technical and application support during the event.

Activities customization. Subscribers database. Access and activity reporting. SLA (Service Level Agreement) certified 99.95%. GDPR compliance with servers in Italy.
TEVECO Cloud the whole plataform for work, training, communicate and knowledge sharing.
Contatact us: info@tecnichedivendita.com, tel. (+39) 02 9370 907.